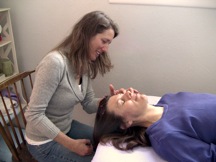 Cosmetic Acupuncture
More and more women and men are turning to cosmetic acupuncture to turn back the clock of time. This noninvasive technique draws on Traditional Chinese Medicine and uses no chemicals, lasers or surgery. You simply lay back and relax while Rebecca goes to work. The best part is, not only will you look younger, you'll feel better too!
Benefits of Cosmetic Acupuncture
Rebecca studied both the Mei Zen Cosmetic Acupuncture System™ with Martha Lucas, Ph.D., L.Ac.; and Facial Rejuvenation System with Virginia Doran. She draws on both systems to customize a 10-visit treatment plan for your particular facial concerns. (Some people may require fewer or more sessions depending on their particular skin conditions.)
Schedule an Appointment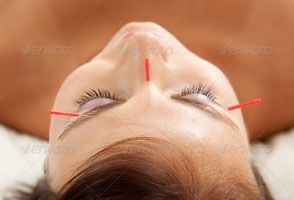 After just six treatments, you will notice:
Reduced wrinkles and fine lines
Improved skin firmness and tighter jaw line
Refined skin texture and evener tone
Tightened eyelids with less droopiness
Cleared or reduced age spots
Younger-looking radiant skin
More energy, better sleep, improved digestion, and greater health overall
The best part is that acupuncture costs less and is much healthier for you than other cosmetic treatments such as lasers or surgery. Plus there is no lengthy recovery time or side effects—other than feeling good!
How Cosmetic Acupuncture Works
Placing very fine acupuncture needles into the face increases blood flow, which oxygenates the tissue. This improves muscle tone and elasticity while building collagen. Unlike Botox, which paralyzes facial muscles, cosmetic acupuncture actually tones the muscles. This means the results may not be as dramatic, but you'll still be able to smile and make other wonderful facial expressions.

"Furthermore, there is evidence that acupuncture also increases the production of collagen (Lu 2008). This may help fill lines and increase the overall skin tone of the face over a longer period of time. … acupuncture may have a much broader range of effects including: lifting the brow and jowls; improving complexion and skin tone; and improving the general health of patients." ("Acupuncture vs Botox: How does Acupuncture compare to Botulinum Neurotoxin A for cosmetic purposes?" by Sam Corban in the Summer 2008 issue of the Chinese Medicine Times eJournal)
What to Expect During Cosmetic Acupuncture Session
If you are receiving cosmetic acupuncture, you may want to skip caffeine just before your appointment since you'll be lying still for a while. Also, please avoid lotion or makeup on your face. Just show up with your squeaky clean natural skin!
Because Rebecca will be delicately placing fine needles in your face, scalp and ears, these appointments take longer than her regular sessions. Please allow 1.5 hours for your cosmetic acupuncture appointments. You will undoubtedly enjoy the quiet time alone while you relax and allow the acupuncture to do its job. (Rebecca is always nearby, though, if you need anything.)
The beauty of Chinese medicine is that it can treat several health issues all at once. So while Rebecca addresses your cosmetic concerns, she will simultaneously treat any other health issues you may have.
Treat yourself to anti-aging cosmetic acupuncture—you deserve to not only look younger, but to feel younger too!
Here are a few examples of Cosmetic Acupuncture