Pain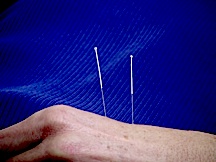 If you live with chronic or acute pain, your quality of life suffers.
You're not alone, though. Nearly 24 million people cope with debilitating migraines, for instance, while half of all people aged 60 or older experience lower back pain. Western medicine often treats pain with pharmaceuticals or surgery. Fortunately long-term narcotic use or invasive surgery are not your only options. Acupuncture has a proven track record for relieving both acute and chronic pain:
A 1993 study in China found that acupuncture completely alleviated pain for 76% of the 5,460 patients treated who suffered from neck, shoulder, low back or knee pain. Another 20% of patients experienced an improvement in their pain.
The World Health Organization recognizes acupuncture as an effective treatment for chronic facial pain such as TMJ dysfunction, migraine and other headaches.
Rebecca has numerous case studies from her own practice of how acupuncture and Chinese medicine have helped her patients with pain.
Acupuncture and Chinese medicine can help with the following:
back pain
facial pain (TMJ)
headaches/migraines
knee pain
neck pain
neuralgia
sciatica
shoulder pain
and many other other pain conditions
Rebecca can treat you with acupuncture therapeutically while you're in pain, as well as preventatively at other times.
Instead of placing needles directly where your pain is, which can exacerbate it, she uses corresponding points elsewhere on your body to insert the needle. For instance, if you have pain in your right foot, Rebecca may apply needles to your left hand. This releases the pain effectively and is far more comfortable than other forms of acupuncture. You may even feel a pleasant warmth or tingly sensation where your pain is during this procedure!
Rebecca finds most people experience relief quickly—sometimes during their acupuncture session. In addition to acupuncture, Rebecca may also recommend Chinese herbs, diet and lifestyle changes to help you feel better.