Meet Rebecca
Rebecca was born and raised in Madison, Wisconsin and has called Colorado her home ever since she moved here in 1987.  After graduating college with a Bachelor's Degree in Biology from UC Boulder, Rebecca went on to earn her Master's Degree in Oriental Medicine at the International Institute of Chinese Medicine in Santa Fe, NM.  After graduating in 1999, Rebecca moved to Paonia, CO where she started her private acupuncture practice and her family.  Seventeen years later, Rebecca is the proud mother of two teenage daughters and still maintains her private acupuncture practice.  Since 2013, Rebecca has also worked in Glenwood Springs, CO at Providence Apothecary and Healing Center.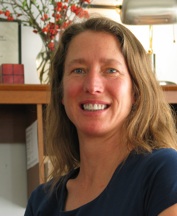 Rebecca Finds Her Calling
Her interest in marine biology eventually shifted to natural healing, thanks to a roommate of hers at the time. And then while visiting her mother one summer, Rebecca opened a magazine to a list of Chinese medicine schools and knew immediately what she wanted to do.
Six months later she moved to Santa Fe where she earned her Master's degree in Oriental Medicine from the International Institute of Chinese Medicine in 1998.
Rebecca practices a 2,000-year-old medical system known as Traditional Chinese Medicine. During her training, she learned the importance of personalizing an herbal formula or acupuncture treatment for each patient.
Ten years ago Rebecca and her husband, Rob, moved to Paonia. Rebecca opened her acupuncture practice and began seeing patients in between raising her two daughters, taking violin lessons, gardening, and starting the Pickin' in the Park Summer Concert Series with her husband.
Mechanically inclined by nature, Rebecca loves how grounded Chinese medicine is in science. She loves working closely with each patient to solve his or her health puzzle. "Each person's body has the capacity to heal itself," she says. "I help facilitate that process with safe an effective natural methods. I love helping people feel good again!"
She does this by getting to know you, your lifestyle and your symptoms during the initial intake interview. Then, she begins looking for patterns of imbalance in your body. She'd be happy to explain how this works—patterns are revealed through your pulse, tongue and symptoms.
Rebecca looks forward to meeting you!